Ernie Ball
​Dal 1962 Ernie Ball produce corde e accessori per chitarra e basso a livello mondiale ed è leader del settore! Paul McCartney, Keith Richards, Slash, Clapton, Jimmy Page da sempre utilizzano corde Ernie Ball per il loro inconfondibile sound. Ernie Ball utilizza materiali di alta qualità e tecnologie all'avanguardia per fornire la più ampia scelta di opzioni espressive.
La storia
1953 | L'incontro con Leo Fender
Mentre Ernie si trovava in Arizona sentì parlare del radio riparatore Leo Fender, che stava costruendo chitarre elettriche solid body e steel guitar. Ernie guidò sino a Fullerton, incontrò Leo e divennero subito amici. Ernie pensò che fossero gli strumenti migliori che avesse mai visto, e da quel giorno divenne collaudatore per Leo, decidendo di sostenerlo ufficialmente. Nello stesso anno diventa ufficialmente endorser degli strumenti Fender.
1954 | La scuola Ernie Ball
Ernie Ball apre una scuola di chitarra e inizia ad insegnare ad aspiranti musicisti. Proprio durante le sue lezioni, inizia a capire le difficoltà degli studenti nell'approccio alla chitarra, come ad esempio eseguire correttamente il bending oppure a premere correttamente corde di calibro maggiore.
1957 | Il negozio di Tarzana
Ernie Ball apre il suo primo negozio di strumenti musicali in California, più precisamente a Tarzana.
1958 | Il primo negozio di chitarre
Nella seconda metà degli anni '50, Ernie aprì il primissimo negozio di chitarre elettriche al mondo. Nonostante le difficoltà e lo scetticismo della gente, Ernie riescì sempre a pagare i suoi conti, e nel 1958 fintalmente le cose iniziarono ad andare nel verso giusto.
1962 | Accessori e Corde
Gli accessori per chitarra elettrica diventano sempre più importanti per i chitarristi ed Ernie Ball inizia ad offrire ai musicisti di tutto il mondo corde dal calibro custom così nasce ufficialmente la linea Slinky.
1967 | EB si trasferisce a Newport Beach
Ernie Ball chiude il negozio e si trasferisce a Newport Beach, in California, per concentrarsi sul business delle corde e degli accessori. Per un certo periodo Ernie lavora part-time, dedicandosi anche al surf e a pilotare aerei. Il business delle chitarre prende una nuova direzione, e le cose cambiano per sempre.
1970 | Sterling Ball prova il nuovo basso di Leo Fender
Sterling Ball è coinvolto nell'attività familiare già a partire dai 9 anni. Lavorava part-time dopo la scuola e durante in weekend e il suo ruolo era presso il registratore di cassa oppure nell'imballaggio delle corde. Vivendo in una famiglia molto musicale, Sterling inizia prestissimo a suonare il basso e la chitarra ed è presente in molte band dell'area di Los Angeles. Questi primi sforzi si sono realizzati in una carriera musicale durata per tutta la vita, anche con un importante lavoro come beta-tester per il nuovo basso Music Man StingRay di Leo Fender.
1972 | La fondazione di Music Man
Ernie Ball e Tom Walker si conobbero quando Tom era il rappresentante della Fender per la costa occidentale e visitava il negozio di chitarre di Ernie. Divennero grandi amici e a Tom Walker fu chiesto di essere il padrino di Sterling Ball. Nei primi anni '70 Tom progettò un nuovo circuito di preamplificazione che poi divenne una nuova linea di amplificatori per l'azienda Music Man. Fondata prima da Tom Walker, Leo Fender e Forest White nel 1972, Music Man fu infine acquistata da Ernie Ball nel 1984.
1973 | Un'azienda familiare
All'inizio del 1973 Sterling decide di unirsi al gruppo di agenti di commercio e di dedicarsi completamente all'azienda in evoluzione. Sterling dichiara al responsabile delle vendite dell'epoca "Datemi un mese, una carta di credito per far benzina e quella vecchia Chevrolet fuori nel parcheggio che non usiamo, pagatemi solo per quello che vendo e se non valgo nulla, licenziatemi." Inutile dire che Sterling stabilì in seguito a questa dichiarazione record di vendita mai raggiunti.
1979 | EB si sposta a San Luis Obispo
Ernie Ball sposta il quartier generale dell'azienda a San Luis Obispo, California. Gli impianti di produzione delle corde ed Earthwood traslocano nella nuova casa nel marzo del 1979.
1984 | Le corde RPS Slinky
Le corde Ernie Ball R.P.S. (Reinforced Plain Strings) Slinkys vengono introdotte sul mercato e divengono presto tra le preferite dagli artisti. Le corde RPS hanno un avvolgimento extra in ottone attorno all'estremità della corda che si àncora al ponte che incrementa la resistenza e la stabilità.
1997 | La prima Battle of the bands
Il 1997 è l'anno della primissima Ernie Ball Battle of the Bands durante la tappa di San Francisco del Warped Tour. Questa prima edizione si sviluppa in 18 tappe e segna l'inizio una relazione di lunga durata con Kevin Lyman e The Warped Tour.
1998 | Il Bus Ernie Ball
Il bus Ernie Ball debutta ad un Ernie Ball Open House. Il bus continuò a visitare i rivenditori Ernie Ball Music Man negli Stati Uniti portando con sé tonnellate di prodotti Ernie Ball ed alcuni straordinari strumenti Music Man da far provare ai clienti.
2000 | Il palco mobile Ernie Ball
Il palco mobile è diventato uno dei locali viaggianti più ricercati al mondo. Ogni anno decine di migliaia di amati dei concerti si radunano per ascoltare le band emergenti che suonano sul palco Ernie Ball al The Warped Tour.
2004 | Beefy e Not Even
Le mute Beefy e Not Even si aggiungono alla linea Slinky. Intercettando i desideri dei musicisti più giovani che vogliono un suono più grosso e robusto, Brian Ball crea un set di corde ottimale per le moderne accordature in D, drop D e C#. La combinazione tra anima più spessa e avvolgimento delle corde Beefy e Not Even Slinky, incrementa la tensione necessaria per mantenere le corde suonabili alla giusta intonazione.
2008 | Nuove corde e nuova confezione
Questo è l'anno di debutto della nuova confezione Element Shield che incontra l'immediata approvazione del settore. Lanciata da Brian Ball, il nuovo packaging ha lo scopo di mantenere le corde perfette come il giorno in cui sono state prodotte. "Abbiamo voluto offrire ai consumatori la muta di corde più fresca possibile, oltre a migliorare le qualità di merchandising per i rivenditori". La confezione Element Shield ha dimostrato la sua validità anche nel combattere le contraffazioni!
Le nuove corde Coated Acoustic e Coated Electric Slinky debuttano al Summer NAMM show 2008. Queste nuove corde Slinky coated hanno un rinforzo al titanio attorno all'estremità che si àncora al ponte, prevenendo la rottura della corda e migliorando la stabilità dell'accordatura.
2014 | Le corde Aluminum Bronze
Vengono immesse sul mercato le corde per chitarra acustica Aluminum Bronze offrono maggior proiezione e chiarezza delle corde tradizionali in bronzo, fornendo al contempo una maggior resistenza alla corrosione. Le corde sono realizzate in una lega di rame e alluminio specificamente concepita per le corde per la chitarra acustica.
2015 | Brian Ball promosso a presidente
Il nipote di Ernie, Brian Ball, è promosso presidente. L'amministratore delegato Sterling Ball ha dichiarato: "Dal 1962, Ernie Ball Inc. si è dedicata a fornire strumenti per artisti, e siamo entusiasti di vedere cosa altri 50 anni nel settore porteranno sotto la leadership di Brian."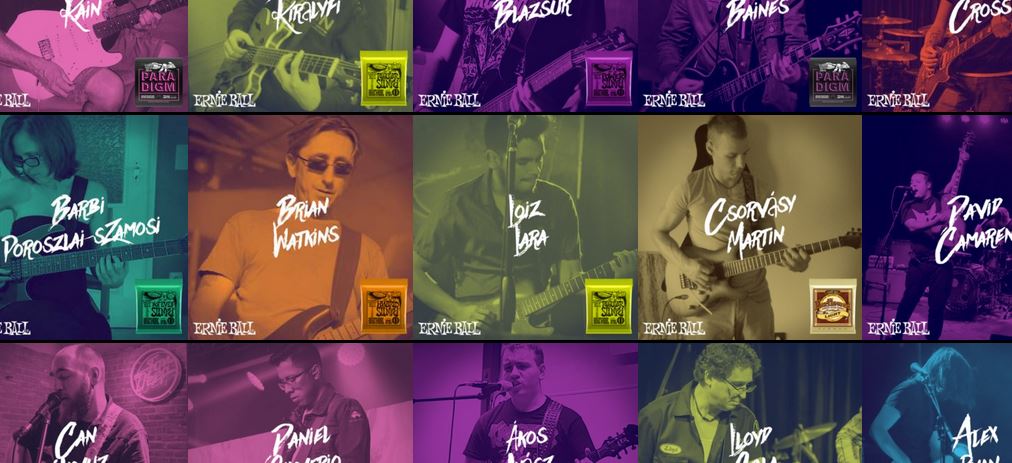 I Play Slinky
Ernie Ball ha lanciato la campagna #iplayslinky, mettendo in evidenza alcuni dei chitarristi più iconici al mondo che suonano con le corde Ernie Ball, incluso Clapton, Page, Beck, Richards, Slash, e molti altri. Migliaia di fan hanno anche potuto creare il loro annuncio pubblicitario #iplayslinky sul sito web ufficiale Ernie Ball.